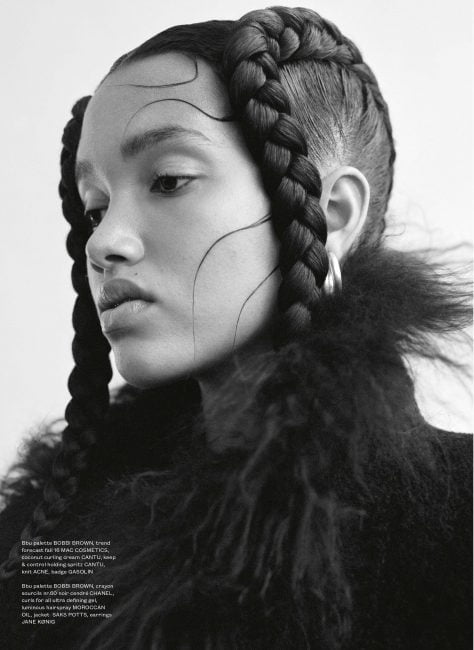 Hair Politics
Proud of this shoot and article i contributed to Beauty Papers magazine with the beautiful Marie Fofana and Cassey Chanel photographed by Kacper Kasprzyk.
Hair has always been political. Our hair is one of the ways we tell the world who we are, which group we belong to, what music we like, what kind of world we believe in. The hippies let it all grow out to emphasise their emancipation from convention; the punks used their hair to shock a conservative, conformist society out of its cultural stupor; feminists cropped their hair in a rejection of patriarchal objectification; and Black Power activists embraced their natural hair and Afros to express their refusal to conform to white beauty standards.
While it is true that some of the big hair and cosmetics brands now feature black models in their campaigns, and there are more products for different skin tones and hair types, the prevailing aesthetic is still a white
and western one.
Too often these days, the only time a black woman will be featured wearing a hairstyle that could be said to have originated in black hair culture is if she is a singer or sporting celebrity – someone who already has her own clearly defined identity. If not, she'll be given the straightened, ubiquitous 'cool girl' hair – the undone wave favoured by magazines and brands the world over.
A recent editorial and runway trend, however, has been the TWA (Teeny Weeny Afro). This is the first time in decades we've seen natural hair being worn in high fashion. It is a small victory, but where are the baby hairs, box braids and cornrows? Too African? Too powerful? Or maybe it's just too delicate a subject and they are cautious about tackling it? I understand this hesitation – as a white hairdresser, doing hairstyles which originate in black culture, on black women, for this shoot, I had to proceed with a certain cultural sensitivity. The risk of reinforcing stereotypes was always in the back of my mind. But those of us who are working at the highest levels of the fashion industry, who love beauty culture and great hair, have a responsibility to celebrate beauty wherever we find it. And I find it in these women, with this hair.
Make Up Anya De Tobon Magazine Beauty Papers Model Cassey Chanel Photographer Kacper Kasprzyk Model Marie Fofana Stylist Oliver Fussing Hair Rudi Lewis